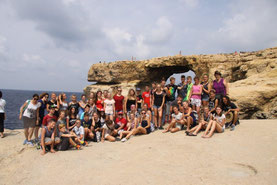 When our English teacher offered to go on a trip to Malta with us, we were very surprised. We had expected to go to London, as many students had done before. But the news of being in the "Sunny Malta" really excited us. September 9th was just the right day to begin our journey to Malta. 
We started one week of having fun, going swimming, shopping and sightseeing (and above all going to school). After a two hours flight we landed in Malta at a 2:50 p.m. and were taken to the meeting point "Garden View", where our host families were already waiting for us.
We lived in a little quarter of St. Julian`s called Swieqi. From there we had only an about fifteen minutes walk to our school. Monday 11th was our first schoolday in Malta. After a placement test we were divided into three groups. Three teachers taught 15 students each. For four days we had five lessons in the morning, in which we were given lots of texts and exercises. We learned a lot (but also had a lot of fun).                                                                                                                                    
In the afternoons we were taken to many sights and famous places in Malta. Already on the first day we were taken to the capital Valletta and visited the "Malta Experience Film Show", where we got to know a lot about the history of the Maltese Islands. On the second day a ferry took us to the neighbouring island of Gozo to visit the Inland Sea at Dwejra and the Azure window. We could also admire prehistoric temples – the Ggantija Temples- and enjoy the fantastic Ramla I-Hamra beach.
In the evenings we could talk to the host family members. The rest of our freetime we spent in a place called Paceville. There we found a lot of nice people, shops, pups and restaurants where we, of course, drank non-alcoholic drinks. On Thursday afternoon we went to a dolphin show at the Mediteraneo Marine Park. It was fascinating. We have never seen a show like this before. Friday the 16th was our leaving day. At about 1:15 p.m. our airplane to Vienna took off.                                                                        
To sum up, we had an unforgettable and beautiful week in Malta.